Since I'm in the mood for embarassing myself by telling you the truth about silly things I do, let me confess that I set myself the pointless task of being the first commenter on The Secret Is In The Sauce (SITS) yesterday.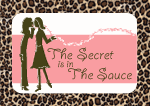 SITS is an awesome site developed by
Heather
and
Tiffany
who are dedicated to encouraging bloggers by promoting them one by one, asking readers to first leave a comment on the main SITS site, then head over to the day's featured blogger and comment away! Each weekday, a new blog is featured, and the post giving us the link is scheduled for midnight.
Over there, there's not exactly a
competition
amongst the nightowls to be the first commenter when the new post goes up, but there does seem to be a certain
sense of achievement
when your name can head the list of 130 or 140 comments for the day. Most of the early commenters sound very tired as they type a bleary Hello while they hug their coffees, but it is fun to be one of the first.
And I'm in Australia! The Land of Opportunity To Be The First Commenter! This is because when the post pops up at midnight somewhere in the States, it's a cushy late-afternoon time for me, and really, why
shouldn't
I aim to be first? Granted, there is
Arsenic Hour
to negotiate, but it's worth a shot, isn't it?
After much concentrated thinking, subtracting, adding and mixing numbers up in my head, I worked out that the posts are popping up at 5:00pm over here. Should be easy.
Not so, it turns out.
This is how it (approximately) went yesterday. I'll preserve Australian Eastern Standard Time, because it's my blog, and I can use my timezone if I want to.
16:45:00
- Realise that the new SITS post should be appearing in about a quarter of an hour. Kids are quiet and happy. Might go for the FIRST comment today.
16:53:00
- Trying to do some of the dinner preparation while keeping an eye on the time. Decide I won't sit down and focus on catching the new post until 4:55.
16:54:00
- Why does time go so slowly when you're "watching the pot?"
16:55:00
- Ah! Sit down and refresh the screen. Notice that yesterday's post finished with the text: "143 SITS Sisters commented" and decide to focus on that text. The minute it changes, I'm commenting my way to FIRST PLACE!
16:55:30
- Refresh screen. No change to the line "143 SITS Sisters commented." Reassure self that there probably won't be a change for the next 4 minutes 30 seconds. Dum-de-dum-de-dumm.
16:55:45
- Sonny Ma-Jiminy says, "My pants are wet Mummy." WHAT?!? Talk about great timing. Decide that I will only need to spend 4 minutes 15 seconds dealing with this and can still be first if I'm quick. Also sternly tell self that if I miss it, no big deal. Sonny's more important. (But gee - FIRST! Wow.)
16:55:50
- Sonny Ma-Jiminy says, "There's some wee on the kitchen floor too." That can wait until after I have blitzed the comment race, surely?
16:56:00
- Whisk Sonny to the bathroom. Decide that it's so close to dinner that he should probably have a shower anyway.
16:56:15
- Sonny naked. Shower water cantankerous. Two temperatures: 'Scalding' and 'Freezing'. Make mental note to change the 'H' and 'C' on the taps to 'S' and 'F' in line with Goldilocks-type showering experience.
16:56:30
- Success! Sonny proclaims the shower is "a bit perfecter" and hops in. I quickly wash everything that needs washing. He is independent in the shower, I decide to leave him for 3 mins 30 secs and head back to refresh the screen. "143 SITS Sisters commented." Still in the running for the fabulous prize of being FIRST! Woot!
16:57:20
- Sonny's tiny voice, "I need to do a poo!" Wow! Toilet training is working! Right-jolly-now-of-all-the-times-in-all-the-days. Well. This is truly more important than being first. I'll deal with this and take my chances on SITS.
16:57:25
- Water of "perfect" temperature switched off (gah!), Sonny out of shower, towelled down, sat on toilet.
16:58:00
- Refresh screen. "143 SITS Sisters commented." Realise that my heart is pounding and I am all nervous, just like in the closing seconds of an eBay auction you're winning and you hope nobody outbids you as the clock tick-tick-ticks along. Admit to self this is really pretty dumb.
16:58:35
- Sonny is done. And wow. He must be lighter after that. Again: wow. Good going, kiddo. He declares he doesn't want his nighttime nappy, only undies. I race into the kitchen
where we of course store the undies
and step in the large puddle of wee that he warned me about, but I had cleverly decided to de-prioritise so I can have the delirious joy of being the FIRST COMMENTER ON SITS. Like there's a prize or something. Idiot.
16:58:45
- Get old towel and deal with puddle on kitchen floor.
16:59:00
- Refresh screen. "143 SITS Sisters commented." Cool.
16:59:10
- Negotiate with Sonny regarding the benefits of going with the nighttime nappy afterall. Nappy on. Pyjamas on. Cuddle, because I can't resist.
16:59:55
- Refresh screen. "143 SITS Sisters commented."
17:00:03
- Refresh screen. "143 SITS Sisters commented." Okay, maybe the SITS clock and mine aren't perfectly synchronised...
17:00:25
- Refresh screen. "143 SITS Sisters commented." No worries, it'll be real soon.
17:00:49
- Refresh screen. "143 SITS Sisters commented."
17:00:58
- Refresh screen. "143 SITS Sisters commented."
17:01:05
- Refresh screen. "143 SITS Sisters commented."
17:01:35
- Refresh screen. "143 SITS Sisters commented." Maybe the SITS girls schedule their posts for a few minutes after midnight.
17:01:47
- Refresh screen. "143 SITS Sisters commented." Or maybe they don't schedule them at all.
17:01:58
- Refresh screen. "143 SITS Sisters commented." Or maybe they've decided to play with us today, schedule it for 2am so silly ol' me learns a lesson about not playing pointless games like this.
17:02:05
- Refresh screen. "143 SITS Sisters commented." Or maybe it's just a life lesson I have to learn. The Hare and the Tortoise, you know. It's not about who wins or loses, but how you play the game.
17:02:10
- A thought dawns on me.
This is not the top of the page.
I keep refreshing and the page loads to the same spot it was before I refreshed. Any new post will surely appear ABOVE this spot here.
17:02:11
- Embarrassed.
17:02:12
- Scroll up. Yep, there's the new post. Three minutes old, with two comments there already. What a total schmuck.
Disclaimers:
(1) No children were harmed or neglected in the whole stupid debacle. On my honour, their needs, as always, came first. All screen refreshes were done in the "spare" blocks of 10 seconds which would have otherwise been used to say, "Hurry Up!" But instead of hurrying Sonny, I decided to hit "refresh". A better use of time.
(2) SITS offers awesome competitions and giveaways, and all right-thinking SITStas would choose to enter them with a view to win, rather than engaging in inter-continental competitions regarding who commented first on any given day.